Football (called soccer in some countries) is World's most widely played and followed sport. The Game is played in over 200 countries of the world and FIFA world cup is a sporting event everyone eagerly watches. Due to its popularity and following, it is completely natural that people who play this game at the highest level are not only famous but also very highly paid. We present to the 10 Most richest players of the game.
10. Philipp Lahm
2012 Earnings
: €16.7 Million (£11.9m)
The German International is Currently the Captain of German Football Teams as well as his Club side
FC Bayern Munich
. Lahm is a right footed defender who plays on either left or right side of the defense. Known for his pace and crossing, the player is one of the most consistent and highly paid footballers
Philipp Lahm developed his own foundation for socially disadvantaged people in Germany and Africa. The Philipp-Lahm-Foundation was founded on the December 11, 2007.
9. Ricardo Kaka
2012 Earnings
: €15.5 million (£12.9m)
The Brazilian International is one of the World's Top Players. Currently Playing for Spanish Club
Real Madrid
, the player is one of the largest earners of the Game
He features prominently in Adidas advertising and also has a modeling contract with Armani, the latter preventing him from appearing in a photo collection alongside his Milan teammates that was published by Dolce & Gabbana in early 2007. He has also earned through EA's FIFA games (FIFA 2011 & FIFA 2012) in which he is the cover player.
8. Fernando Torres
2012 Earnings
: €16.7 Million (£13.9m)
Torres is one of the most celebrated players of the Spanish domination era of football. World Cup, 2 Euro Cups and trophies like the champions league and the FA Cup, he has won it all. The Striker Currently plays for the English Side
Chelsea.
Starting for Atletico Madrid, he moved to Liverpool and after a few seasons, Torres joined Chelsea for a record British transfer fee of £50 million (€60.5 million) on a five-and-a-half year contract, making him the most expensive Spanish player in history.
7. Yaya Touré
2012 Earnings
: €17.6 Million (£14.7m)
Yaya Toure, currently playing for English side
Manchester City
is an Ivory Coast International. Currently earning over 200,000 pounds per week, the player is the back bone of his club side and is a key figure in the Ivory Coast international team. Previously a
FC Barcelona
player, he joined
Manchester City
in 2012.
6. Sergio Aguero
2012 Earnings
: €18.8 Million (£15.7m)
The Argentinian International is one of the most deadliest footballers of this era. Currently playing for English Side Manchester City, Aguero is the main striker for the team. Previously a atletico madrid player, aguero moved to Manchester City in July 2011. The player is married to Football Legend Maradona's Youngest daughter.
5. Wayne Rooney
2012 Earnings
:€20.6 Million (£17.2m)
Currently playing for the prestigious
Manchester United
, Wayne Rooney is certainly the best english footballer after paul scholes and David Beckham. Known for his versatility and never ending spirit, he is the spear head of Manchester United. His current sponsors are Nike and Electronic Arts, and, the deal at Old Trafford, for around $8 million a year, will last at least 5 more years.
4. Samuel Eto'o
2012 Earnings
:€23.3 Million (£19.4m)
The Cameron international is the most decorated African player of all time. Cameroon international has won all the possible European Cup titles, including the UEFA Champion's League twice with 2 different Clubs. Currently playing for Russian side Anzhi Makhachkala, the striker played for FC Barcelona and Inter Milan where he scored goals at will. The four time African Player of the year has now added Puma and Ford to his list of sponsors.
3. Cristiano Ronaldo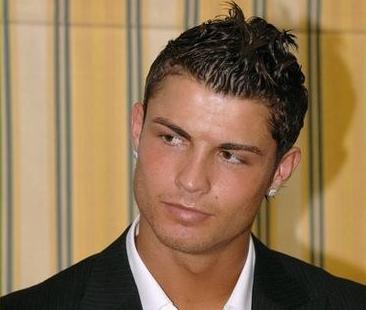 2012 Earnings
: €29.2 Million (£24.3m)
This player is surely the best alongside the Argentinian Leo Messi. Playing for the spanish Giants Real Madrid, Ronaldo came to limelight with performance in Portugese Club Sporting Lisbon. He was bought by English Side Manchester United where he rose to stardom and become the most expensive player when Real Madrid Signed him for a record fee of £80 million. He is the captain of the portugese national team and has several sponsors like Nike, Armani, Coca-Cola and Castrol.
2. David Beckham
2012 Earnings
: €31.5 Million (£26.2m)
The famous english footballer has been known for his crosses and free kicks. He has played for clubs like Manchester United and Real madrid and currently plays for US side LA galaxy. His endorsement deal with Adidas is the biggest in the sport thanks to royalties from soccer apparel. In May 2011 he signed a deal with Samsung to become the company's global brand ambassador for the Games.
1. Lionel Messi
2012 Earnings
: €33 Million (£27.5m)
He is truly a legend. Currently an FC Barcelona player, he is the spearhead of their attack. He has played the best football that can be played on the planet. Winning several Ballon d'Or, he has overshadowed the likes of Ronaldo and Kaka. He is currently the cover face of FIFA's Next game FIFA 13. Messi was featured on the front covers of the video games
Pro Evolution Soccer 2009
and
Pro Evolution Soccer 2011.
He currently has several sponsorships