Motorola today announced their new smartphone in an event in London, Motorola Razr i. Google Owned American based smartphone manufacturers made the announcement along with Intel, who has provided the Core ( 2 GHz. Single Core) for this smartphone.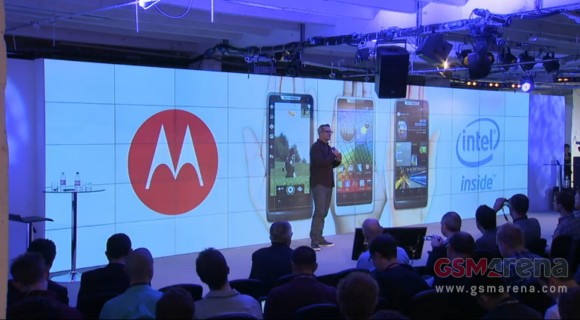 Motorola held an event in London today in the morning to release their midrange smartphone. The device is similar to the
Motorola Razr M
released in US except the Core, which is provided by Intel. The device is set to start shipping in October.
In the modern age smartphones, there have been very few single core processor phones that have made their name. Razr i surely be one of them. Powered by Intel's x86 Atoms Chips, the smartphone has a processor clocked at 2 GHz. The processor is supported by a might 1 GB Ram and a GPU for better gaming experience.
Trademark Razr Series edge to edge screen is another feature of this smartphone. Motorola have provided a 4.3" AMOLED touch and resolution of 960 by 540 pixels with a serious lack of bezel. The Motorola people were proud to announce that they have made a screen 15% larger in the same size of the Phone.
Razr i has a incredibly low thickness with the smartphone only 8.3" fat despite its Kevlar and a water proof Back. The Device has a 2000 mAh battery, which is bigger then the iPhone 4S. Motorola confidently announced in their event.
The battery in the phone has 2000mAh capacity - "40% bigger than the one in the iPhone 4S".
An 8MP camera for a midrange phone! Quite Good. Motorola have impressed everyone with their Image quality and Intel's processor has added spice to it. The Camera has a capability to record 1080p HD video. The software for the camera is very responsive and loads up
within a second
. The burst mode in the Camera also does 10 snaps
within a second.
A front camera is also included.
The device runs on
Android 4.0 ICS
. Motorola confirmed a Jelly Bean update will soon be available. The Android 4.0 is running smooth on the Device with Intel's Core making the Android experience just like those dual cores out there.
Other features include
NFC, Wi-Fi and Micro SD slot. The device holds 8 GB of Internal Storage as well but doesn't have LTE.
Motorola Confirmed the
T-Mobile, Orange, Virgin Media, Tesco Mobile and Phones4U
will have this phone in their stock. With its specs, the device may lie in $300 Range.