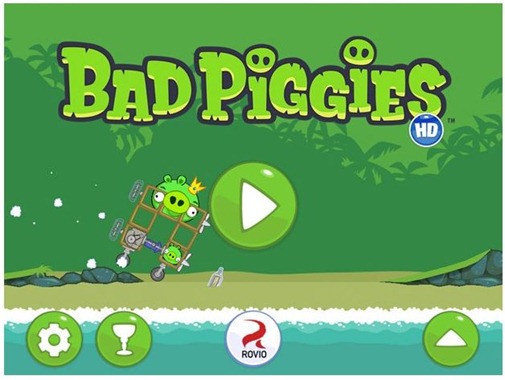 Rovio, developers of popular game franchise Angry Birds went a step ahead with the release of their new game Bad Piggies. The game is based on the villains of Angry birds and has been released on several platforms including
iOS, Mac, PC and Android.
Bad Piggies release was yesterday and the game is already
hit the top spot in most of US app stores
including Apple Store. This signifies the popularity the game has achieved in just few hours among smartphone users.
Bad Piggies is based on the Piggies that were in the structures we had to destroy. On the Contrary, the game is based on construction. Staged in Piggy Island, What you have to do is construct machines that can help the Piggies move through the Island. They can be flying, crashing or rolling machines, What ever you want to build from the
33 given parts
in the game.
The machine build is then used to steer through the levels and
collect eggs
in order to complete the level.
The game is based completely on testing your construction skills opposite to the destruction skills of Angry birds. Constructing your devices to take your through the levels, the game has
total 60 levels
to challenge your mind.
30 additional levels
are unlocked if all 60 levels are unlocked with 3 stars.
Rovio plans to released updates and a
Windows Phone version
is also set to release in sometime.
The game is available now in the Apple App Store and Google Play for
$0.99
. Here's hoping the birds don't get angrier as these pigs try to steal the show.