Samsung released the most awaited
Galaxy Note II at IFA 2012
, Berlin. Several Hands on review were written highlighting some of the interesting features of the phone but no one saw the option of the S Cloud in the Phablet.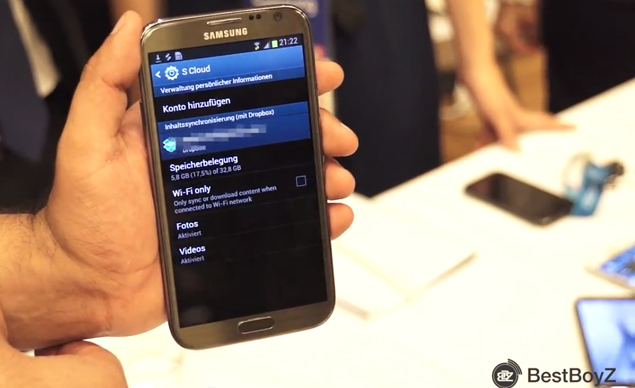 The feature was found by German website BestBoyZ when they were trying the Galaxy Note II at the Mobile Unpacked Event. They included it in their hands-on review.
The Cloud service is basically an online storage where you can put up your files and access them whenever you want. An example is the
SkyDrive of Microsoft.
The Samsung
S cloud
service has been rumored for sometime now. The company has delayed the service due to reasons not clear yet but with the inclusion of this feature in the Galaxy Note II, it is likely that the cloud service will be out along with the
Phablet.
Samsung has entered partnerships with two popular cloud storage services, Dropbox and SugarSync for its range of consumer devices including TVs, smartphones and tablets. This partnership will prove really useful for future Note II users as the buyers of the Note II will get
50gb of Dropbox
space. Huge..eh??
What the S cloud will offer? That is the question of the day. Samsung will surely do more then just
photo sharing and video uploading
for its users. That would limit the usage of the S cloud surely as people who have different applications of their smartphones might want to update their work (e.g presentations, notes) to their S cloud. This will only be clear after Samsung officially announces the S cloud service.
Here is the video in which the S cloud feature is shown.