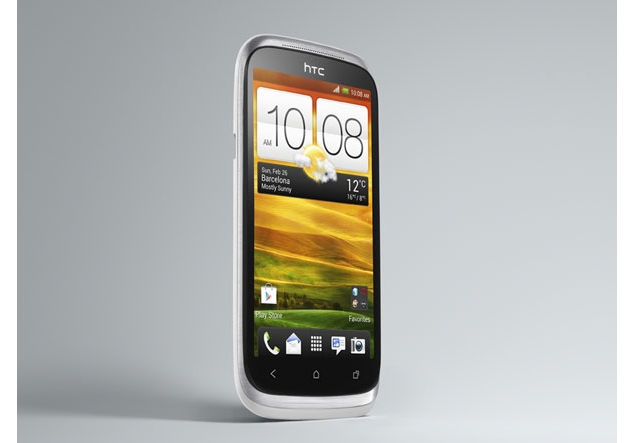 IFA has set abuzz the smartphone markets with big name releases like the Galaxy Note 2. Among the many announcements made, one was the Release of the HTC desire X on the 2nd day of IFA Berlin 2012.
The phone was announced at IFA with no specific event or a large media show up. The phone was announced, including Images and the release target of September in Europe, Middle East, Africa and Asia Pacific.
The phone is a
Budget Phone
with a Simple Dual Core 1GHz Qualcomm Snapdragon S4 processor with a Cortex A5 chip made using 45nm technology and 768MB of RAM. This is sufficient specs for a smartphone which can run almost all the average applications available
The device includes a touch-screen super
4.0-inch LCD screen featuring WVGA
, with
800-by-480-pixel resolution
. The main feature of the camera, a
5-megapixel
on the Desire X is its responsiveness. HTC were boasting about its ability to
start within one second
. The Camera includes
HTC's ImageChip, a f/2.0, 28mm wide-angle lens
,
BSI sensor
,
HDR mode
, and
automatic adjustable flash
. Unfortunately, Video recording is at
Max. 480p.
Considering it to be a mid range phone, the Desire X has only 4 GB of storage but Every buyer will get 25GB of free online storage from Dropbox for two years.
Attractive Offer!!!!
Regarding the OS, it is no way behind in the market with the
Android 4.0 Ice Cream Sandwich
under the
HTC Sense UI
used as its firmware. Tuned with HTC exclusive Beats Audio, the HTC Desire X is very user friendly.
The phone holds a slot for
MicroSD card
as well.
Jason Mackenzie, the president of global sales and marketing for HTC Corporation said,
"If you're looking to enjoy and share high-quality multimedia, wherever you are, this is the phone for you. It not only looks and sounds great, but also provides a super-fast, highly personal mobile experience at a great price."
The pricing is something all consumers are waiting for.
Phones4U
are the first to post HTC Desire X UK pricing, promising the handset alone for free on a £20.50 a month tariff.
No US prices are available.
How do you feel about the desire X? what do you think should be its price? Do share with us your views