Apple announced their
iPhone 5 on Sept. 12 2012
and set the shelf date of 21st Sept. 2012. They announced Preorders were to begin on September 14th on Apple's Website. The Preorders were opened and stock on Apple's Online Store was sold out in just 60 minutes.
It was mayhem as Apple opened Preorders on their website with people trying to book the Apple smartphone before hand to avoid long queues. The preorders were done and dusted in just 60 mins., 20X faster then the iPhone 4S preorders.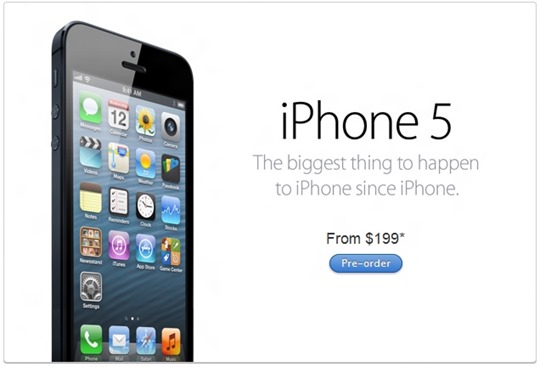 This preorder button was the most popular link in the world when it became active. iPhone 5 button stock of Apple store ran out pretty fast but Carrier Supplies were steady the whole day and eventually ran out next morning.
iPhone 5 has been released with a staggering
7.4mm thickness and 4" and 326 ppi display
. Although to some people Apple's new Smartphone is not much of an improvement, its still iPhone and people will buy it.
Why did the preorders finish so fast. Here is a little info. on iPhone's Popularity
Apple events
and buzz surrounding them is surely phenomenal. Tweets about iPhone 5 on Sept. 12 were up
460 percent
compared to tweets about the iPhone 4S, which was announced in October 2011.
Gene Munster of Piper Jaffray says,
"The sentiment around iPhone 5 was significantly better than that of the iPhone 4S. Based on the same study by Investing Analytics, we believe that 73% of tweets about the iPhone 5 during launch day were positive compared to 51% for the iPhone 4S launch. We believe this is to be expected given the phone is redesigned while the iPhone 4S was not."
The Device was widely followed by people around the world and reactions were dished out on Facebook Status, Tweets and
blogs
and almost anyway people could get their views out.
Taykey produced this data-rich infographic on iPhone 5 reactions from around the Web and shows here how social media went boom when different features of iPhone 5 were announced
Like it or not, people still ordered it!!!
Shipping dates have been posted by Apple store and customers cant wait to get their hands on Apple's new Smartphone. Here is the list of Shipping dates posted on Apple's Website
The Carriers have also put up their shipping schedule and you can find it below
Apple - 2-3 weeks
AT&T - 14-21 business days
Verizon - deliver by 10/5
Sprint - 9/21 for all models except 16GB, which ships in 2 weeks
Apple's Smartphone I surely hitting the market heads on and with the current trends, it is likely that it will leave Samsung's Galaxy SIII sales way behind.