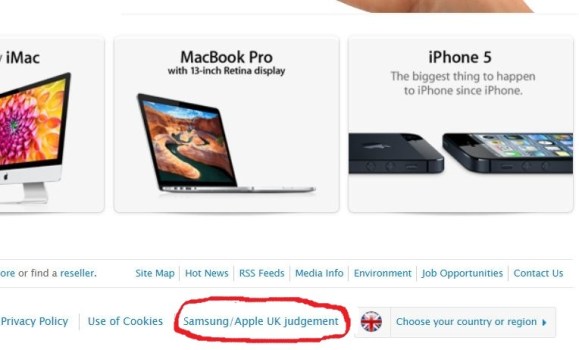 In a recent Case in London, Apple sued Samsung for infringing its patents and they lost then Appealed and again lost ( Hard Luck). The judge ordered Apple to send out a public apology to Samsung which Apple just did in its UK Website and it is not even close to a apology. Yet another example of Apple's dirty methods.
The link circled in the fist picture leads to the Apology in which Apple states in the first paragraph, ( more like a news then a apology) that Samsung did not infringe its Patent.
On 9th July 2012 the High Court of Justice of England and Wales ruled that Samsung Electronic(UK) Limited's Galaxy Tablet Computer, namely the Galaxy Tab 10.1, Tab 8.9 and Tab 7.7 do not infringe Apple's registered design No. 0000181607-0001.
While most of you might be thinking that Apple have accepted the judgement, think Again because Apple show their true colors in the coming paragraphs.
Apple Quotes the statement from the Ruling of Case which are aimed at describing how Samsung Products are so inferior. It made to look something like " You are not even good enough to copy us". Some Apology by Apple.
The informed user's overall impression of each of the Samsung Galaxy Tablets is the following. From the front they belong to the family which includes the Apple design; but the Samsung products are very thin, almost insubstantial members of that family with unusual details on the back. They do not have the same understated and extreme simplicity which is possessed by the Apple design. They are not as cool."
Furthermore Apple states that Apple has won patent infringement cases against Samsung in US and Germany. The UK court can take this as a contempt of Court.
However, in a case tried in Germany regarding the same patent, the court found that Samsung engaged in unfair competition by copying the iPad design. A U.S. jury also found Samsung guilty of infringing on Apple's design and utility patents, awarding over one billion U.S. dollars in damages to Apple Inc. So while the U.K. court did not find Samsung guilty of infringement, other courts have recognized that in the course of creating its Galaxy tablet, Samsung willfully copied Apple's far more popular iPad.
Apple were smart enough to reveal their victories but not truthful enough to mention their losses in Asian Courts.
While Apple fail to get Samsung Banned from the UK, its attempts to get Samsung devices out of markets will continue. This Policy clearly doesn't suit Apple. In fact it tarnishes the reputation Apple has made with its recent devices. Taking on a competitor on creative and innovative grounds is going to be much more captivating for customers and followers rather then resorting to Cheap Methods.