The World of Smartphones just keeps getting hotter. HTC's chairman Peter Chou was ecstatic when he showed off the yet to be disclosed HTC M7 during the company's year end party in Taiwan. The Phone has been heavily rumored about and HTC has announced a press conference to unveil the smartphone on Feb 19th 2013, a week before the MWC 2013.
HTC Smartphone was brought forth by the HTC Chief in the party where he took the photo of the audience. The only glimpse of the smartphone that could be seen was the white back cover.
The Smartphone will be first shown to the world in a Press Conference set to take place on 19th Feb. 2013. This means that the smartphone will be a feature in the HTC Stand in the
MWC 2013.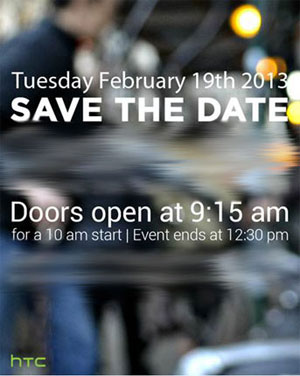 The Phone is set to come with yet another perfect display as is the tradition of HTC. After the astounding success of
HTC Droid DNA
screen, the bar has been set very high for the HTC M7.
The Phone has been rumored to come with a screen size of
4.7" Inch with a 1080p HD Display
. That will not be it about the new flagship of HTC. The phone is also set to come with
Android Jelly Bean 4.2
which given a topping by the upcoming
Sense UI 5.0
.
HTC M7
will be the first Phone to Host the New Sense.
We still need to wait for the official specs for our final verdict of the device.
How do you think this device will fair in the current market? Share with us your views