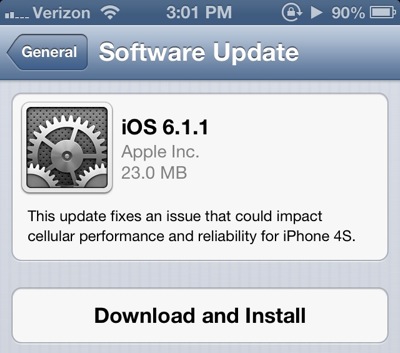 A few Days Back
Vodafone UK Warned
its Customers not to Download the latest Update for Apple iOS, iOS 6.1 due to connectivity issues. Apple has now released another update to resolve the issues of the Customers, i
OS 6.1.1.
The Update has been released specifically for the iPhone 4S which was the only device that faced Problems when update to the iOS 6.1
Other Apple devices will not get the Update!
Vodafone UK issued a statement saying,
"Apple has released a new version of its iPhone software that fixes the 3G performance issues that have been affecting users of the iPhone 4S who had installed iOS 6.1. Please download the latest version — iOS 6.1.1 — from Apple as soon as you can as this will deal with these issues."
The Update 6.1.1 Deals with the 3G Connectivity issue that users of iPhone 4S were facing in the form of regular Connection loss and problems in data transfer.
For those of you who don't know what the Apple iOS 6.1 Upgrade brought to the latest iOS, READ THIS!