Apple
is not only known for its streamlined products but because the American Smartphone giants follow their devices with regular Software updates. Recently
Apple
release an Upgrade for its iOS,
iOS 6.1
.
While many people are eager to download the update, Vodafone UK has requested its
iPhone 4S
users against downloading the update.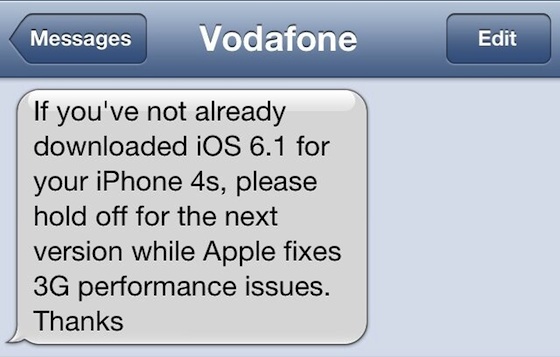 Vodafone UK has been sending out messages to its iPhone 4S users to request them Not to Download the Update. This is mainly due to the Connectivity issues the Update is causing with the 3G network. There have been complains from users regarding call Connectivity and Internet Connection over the 3G Network.
As clear from this message, Vodafone has clearly contacted Apple regarding this issue and the Cupertino Company will work find the fix for these issues in its upcoming iOS update, iOS 6.1.1.
For those of you who want to know what they are missing if they are not downloading the Update, its not much.
The update brings to the iPhone 4G LTE support for more carriers. Not only this, the new update allows US users to buy movie tickets using Fandango after finding show times using Siri. The Update also includes option for iTunes Match subscribers which allows users to download individual songs from iCloud.