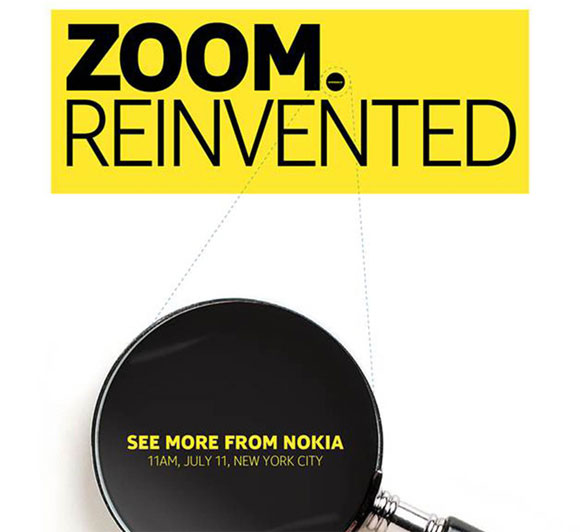 You never seen to get bored when it comes to the world of technology. With the Electronics Entertainment Expo (E3) and Apple's WWDC still going on, Nokia has decided to jump in to the mix. Nokia has started to send out invites of a "Zoom Reinvented" Event in the coming month
The Nokia event is set to take place at 11AM in New York City on July 11th 2013.
The event is most likely to feature a Nokia Lumia Phone with exceptional Camera Tech. and specs. This will be the second phone by Nokia of such type after Nokia PureView 808 launched in 2012 with a 41 MP camera and blew off all the competition in high-end smartphone Cameras.
The device, rumored to come with the the Nokia EOS, will be a high-end Windows Phone smartphone. It will most likely feature the Windows Phone 8.1 update as well. According to Engadget, different sources from Nokia are teasing the arrival of Nokia EOS via twitter which is adding some weight to the rumors. With the current trend among Nokia Phones, it is inevitable that we will be seeing a Nokia Phone with a Powerful Camera.
Would you buy a phone with 41 MP camera? Share with us your views