Qualcomm is the the leading manufacturer of smartphone processors with companies like Samsung, Nokia and Sony using their chipsets in their phones. Today, Qualcomm gave us a glimpse of the future of processing when they announced their 64-bit Snapdragon 810 and Snapdragon 808.
The devices were announced today and are set to feature in smartphones arriving in the first half of 2015.
Snapdragon 810
The Snapdragon 810 is the powerful chipset among the two announced today. Apart from being a
64-bit chipset
, Snapdragon 810 is an Octa Core Device with
Four ARM Cortex A57
chips for power processing and
Four ARM Cortex A53
chipsets for regular tasks but all eight are operational at the same time. These new chips replace the A15 and A7 chips and consume less power (around 20%). This low power consumptions is partly due to the
20 nm manufacturing process.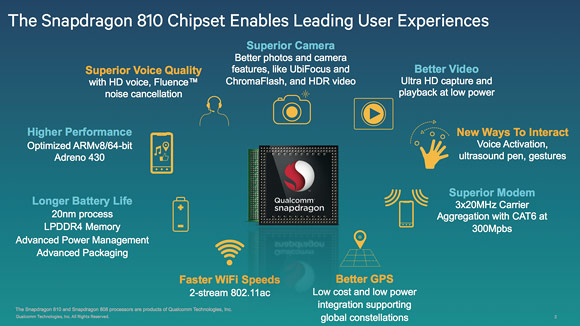 Snapdragon 810 has a much more powerful GPU then Qualcomm's previous flagship. Adreno 430 is almost 80% more powerful then the Adreno 330 and supports 4K Display.
Snapdragon 810 brings 64-bit processing which takes off the upper limit of 4GB of RAM put on by the 32-bit processors.
Snapdragon 810 has a Cat 6 modem with supports upto 300 Mbps of internet speeds
Snapdragon 808
Snapdragon 808 is a 6 Core chipset with 64-bit processing. Though not as powerful as the
810,
808 is still a force to reckon with. The chipset has
two Cortex-A57 cores and four Cortex-A53 cores
along with an Adreno 418 as GPU. The Adreno 418 has almost 30% faster performance then the Adreno 330s.
Snapdragon 808 also has a Cat 6 modem.
While all of this 64-bit processing talk looks impressive, Google hasn't released the 64-bit version of Android. Till it arrives, these devices wont be used. However, it is being speculated that Google will announce the 64-bit Android in the upcoming Google I/O
Stay Tuned for More Updates